HASIL KARYA DARI FASHARKAN TNI AL.
Fasharkan TNI-AL - Sea Hunter - 1
Fasharkan TNI-AL - Sea Hunter - 2
Sea Hunter - 1 (Made by Fasharkan TNI-AL)
KARYA FASHARKAN TNI AL KAN BISA MENIRU TEKNOLOGINYA SAMA INI :
Mark V Special Operations Craft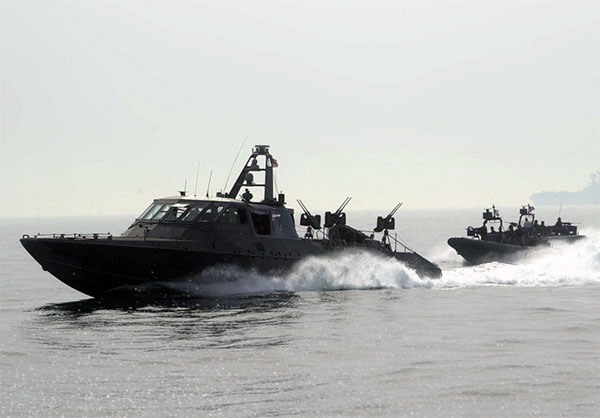 A Mark V Special Operations Craft (MK V SOC) leads a NSW Rigid Hull Inflatable Boat (RHIB) through the water. Note the MK 95 twin 50 cal machine guns mounted to the MK V SOC. Both vessels are operated by Naval Special Warfare Combatant-craft crewmen.
090428-N-4205W-840
KEY WEST, Fla. (April 27, 2009) A Special Warfare Combatant-Craft Crewman (SWCC) assigned to Special Boat Team (SBT) 20 navigates the MARK V Special Operations Craft for a scene in the upcoming Bandito Brothers production titled ¬I Am That Man", due in theaters in 2010. SWCC operate and maintain the Navy's inventory of state of the art, high-speed boats in support of special operations missions worldwide. (U.S. Navy photo by Chief Mass Communication Specialist Kathryn Whittenberger/Released)
SAN DIEGO, Calif. (May 19, 2008) Special warfare combatant craft crewmen assigned to Special Boat Team 12 mount .50-caliber machine guns to the starboard side of a MK V special operations craft during maneuvers in Coronado Bay. U.S. Navy photo by Mass Communication Specialist 3rd Class Terrence Siren (Released)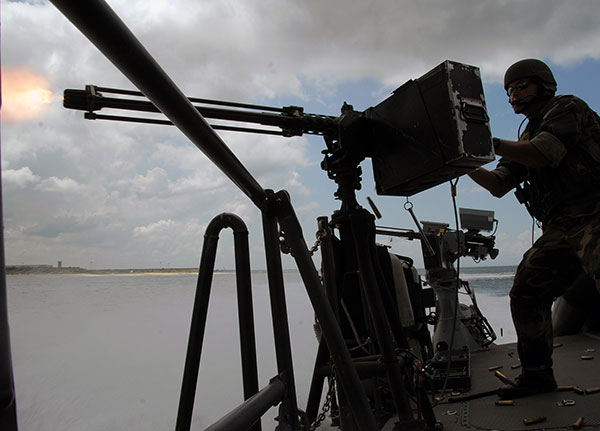 A Special Warfare Combatant-craft crewman (SWCC) of fires a .50 cal heavy machine gun fitted with a blank firing adapter, mounted on the deck of a MK V Special Operations Craft
MK V Special Operations
MK V Special Operations Craft
Mission
The primary mission of the MK V Special Operations Craft (SOC) operating system is to provide medium range insertion and extraction (MRI) support for Special Operations Forces (SOF) personnel in a low to medium threat (offshore/coastal) environment. The secondary mission of the MK V SOC is limited Coastal Patrol and Interdiction (CP&I).
System Definition
A basic MK V SOC operating system, also referred to as an operational detachment, is comprised of two craft, two transporters, two prime movers, two five man crews, an eight-man maintenance support team and one deployment support package. A deployment support package consists of containerized system support equipment (spares/repair parts, consumables, etc.) carried on cargo transporters. A MK V SOC detachment is deployable on two USAF C-5 aircraft to a theater of operations within 48 hours of notification and is prepared to commence day/night special operations in support of a fleet, joint, or combined task force commander within 24 hours after arriving at a forward staging location (host port facility). A detachment is overland transportable via arterial, collector and local industrial roadways. A detachment is self-sufficient in its ability to sustain organizational support for a notional period, but will not be configured to provide security, messing or berthing for its personnel while forward deployed. The inventory objective is 20 craft/10 operational detachments.
PRINCIPAL CHARACTERISTICS Length Overall 82 ft.
Beam, maximum 17.5 ft.
Draft (max. static) 5 ft.
Displacement 57+ tons in operational configuration
Hull Mono hull, 5086 series aluminum
Propulsion Engines 2 x 2285 HP MTU 12V396 TE94 engines
Propulsor 2 x KaMeWa K50S Waterjets
Fuel Capacity 2600 gallons
Nav System Radar, GPS, LORAN, chart plotter, fathometer, flux gate compass
Comm System VHF-BTB, VHF-FM, UHF/VHF-FM UHF AM/FM, LOS/SATCOM, VHF-High Band, HF, UHF-handheld, data, IFF
Accommodations 5 crew, up to 16 passengers/up to 4 CRRC/6 outboard motors fuel
Builder Halter Marine Inc., Gulfport, Miss.
Weapons 5 mounting positions for 7.62 mm, 12.7mm, 40mm; improvements include 7.62mm gatling guns, twin 12.7mm, 25mm guns, STINGER
Craft Capabilities
* Cruise Speed (SS3): 25-35 knots
* Range at Cruise: 550+ nautical miles
* Max. Speed (SS2): 47-50+ knots
* Range at Max Speed: 500+ nautical miles
* Payload (variable): 6,500 lbs+
Detachment Support Components
* Transporter: 2
* Tractor (M916A1E1): 2
* Deployment Package Containerized on:
o 5-ton truck (M1083 or equivalent): 2
o 5/4-ton truck (M1097 or equivalent): 4
http://www.seal.navy.mil/swcc/